Task reminders
The function of reminders will help the user not to forget in time to coordinate, execute or monitor important tasks. It's enough to set the reminder time for the task, and the alert will inform you about it at the right time.
You can set a task reminder by using the "Task reminders" item of the task's context menu in the project tree.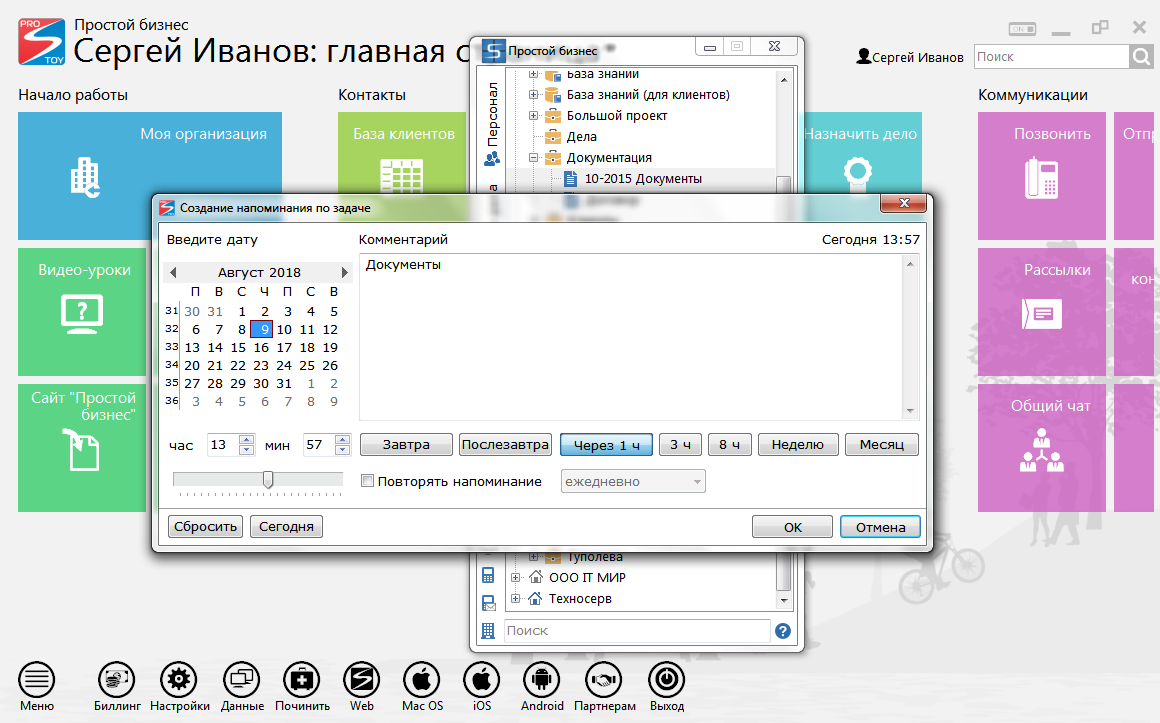 In the window that appears on the left, there is a calendar for selecting a reminder date and a time-selection engine. To quickly set a reminder, you can use the buttons "Tomorrow", "The day after tomorrow", "After 1h", "3h", "8h", "Week" and "Month". "Today" - sets the current date and current time. The "Reset" button sets the default reminder time - the current date and the current time with a shift of 1 hour.
Checkbox "Repeat reminder" allows you to set a daily, weekly or monthly reminder for the task.
The set reminder date and time is displayed in the upper right corner.
The text in the comment field will help the user quickly recall the topic of the discussion, this text will be displayed in the notification. You can set several reminders for one task. To do this, use the left panel or the context menu in the window that appears.
At the specified time, the user will be notified of this task. The notification will indicate the text of the reminder message that was entered. When you close the reminder for the comment in the notification window and hint notifications, a window will open prompting you to postpone the reminder.
The function "My reminders" (available from the context menu on the cube, from the top menu of the main window the item "Go", as well as from the "Run" tab) unites in one window available reminders for all tasks and user comments.