Project Planning Module
Planning is one of the most important components of project management. In the system "Simple Business" with the help of the project planning module you can solve the following tasks:
Simplify the planning of project work and resources for the project manager;
Project participants will be able to see the entire scope of the project;
The manager will be able to monitor the progress of project implementation and the violation of deadlines.
To do this, just create a task and go to the "Calendar" tab in the "Gant" display mode, where you can create and assign cases to other users.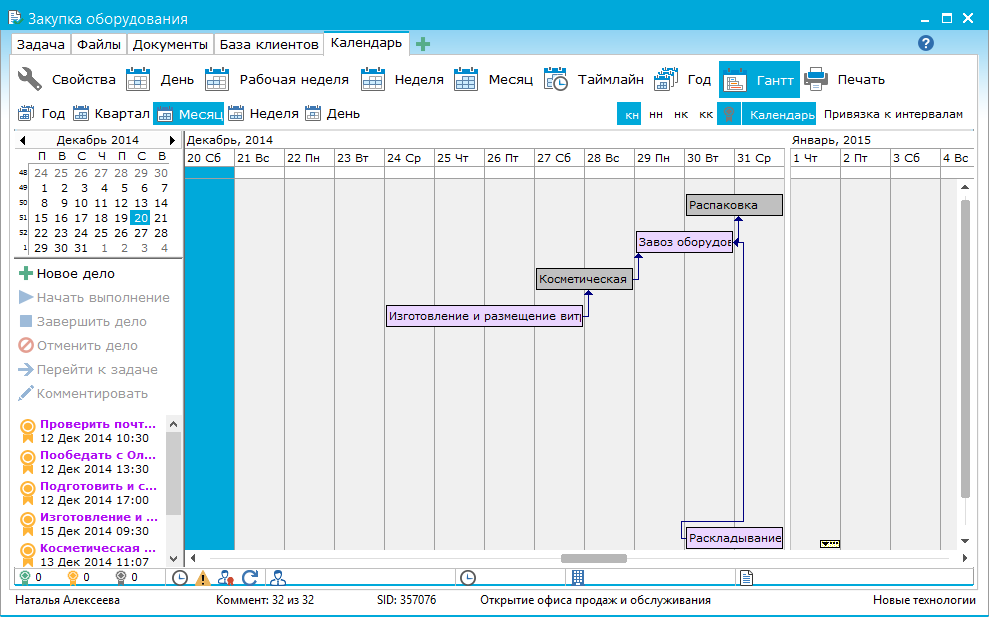 To create a case, it is enough to click the left mouse button in the work area by the day of the calendar. In the window that opens, fill in the name of the case, select the person responsible, set the due dates, add a comment to the case, establish such properties of the case as status and importance. When assigning a case, the user can view the list of cases responsible for common tasks. To do this, just click the left link of the link "Loading". Clicking on the link will open the user's calendar. The calendar displays the user's tasks from common tasks. Cases that the user created on the "My Affairs" tab or in their personal tasks to other users will not be visible.
The user to whom the business was assigned will receive an announcement of the assigned case.
When assigning a case, a comment on the assigned case will be added to the tape of this task.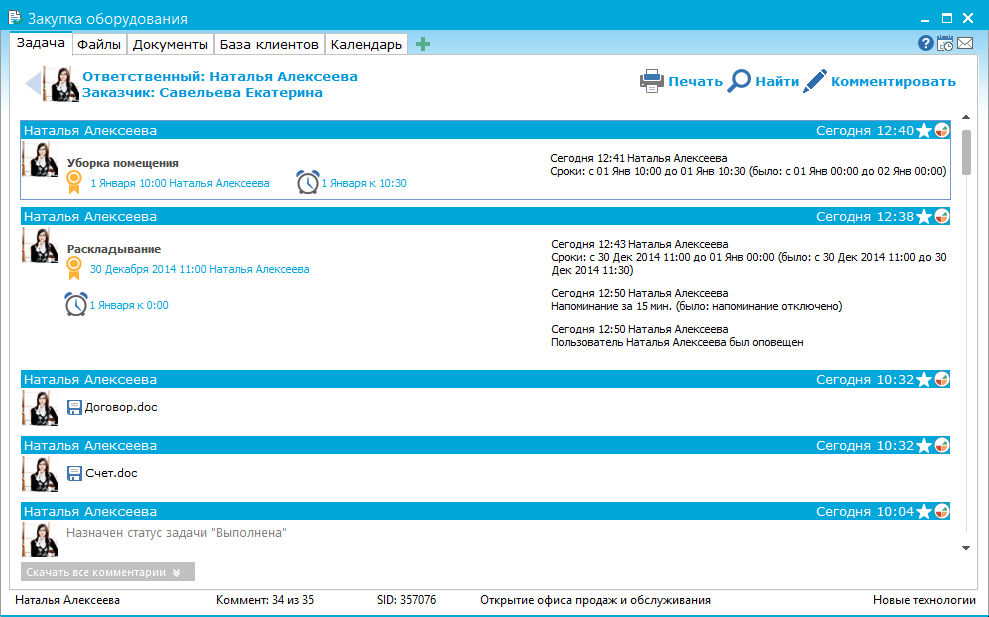 When assigning a case, the user can open the entire task to the person in charge of the case or make only the assigned case visible.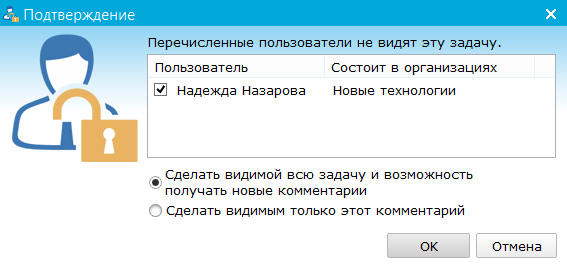 The user can connect the assigned cases with a link. The diagram shows 4 types of communication:
End-start (es) - Case B must begin after the completion of Case A;
Beginning-Beginning (bb) - Case B must begin not earlier than the beginning of Case A;
Start-end (se) - Case B can not be completed until case A begins;
The end-end (ee) - case B must not end before the case A.
The choice of the type of communication between cases is available to the user in the upper right corner of the calendar window.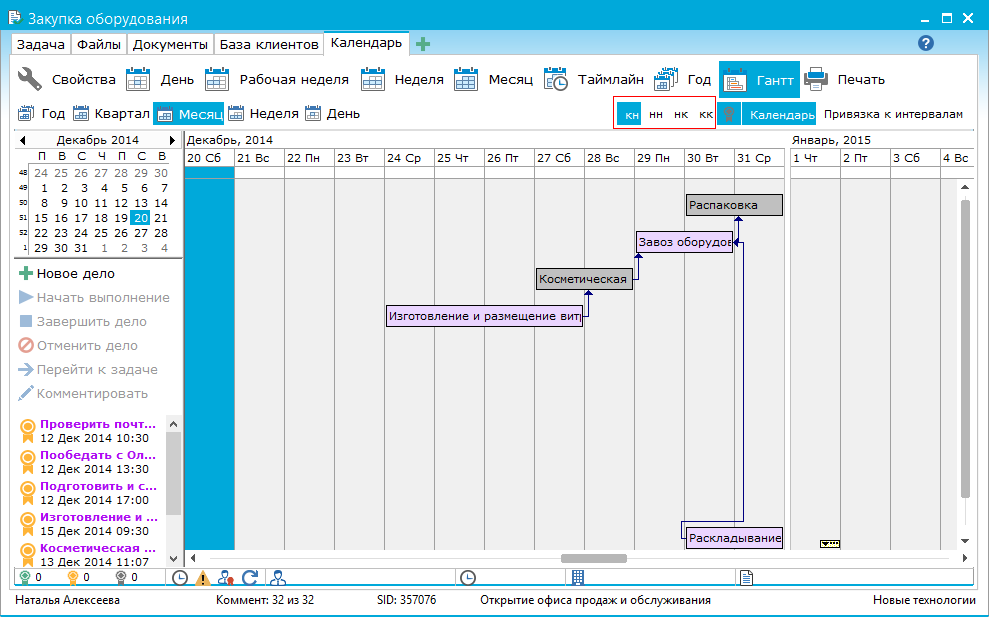 To establish relationships between the cases, the user just select the case, hold down the left mouse button and move the mouse cursor to the second case. When you hover your mouse over a link, a tooltip with the name of the link type and the names of the cases that it links to is displayed.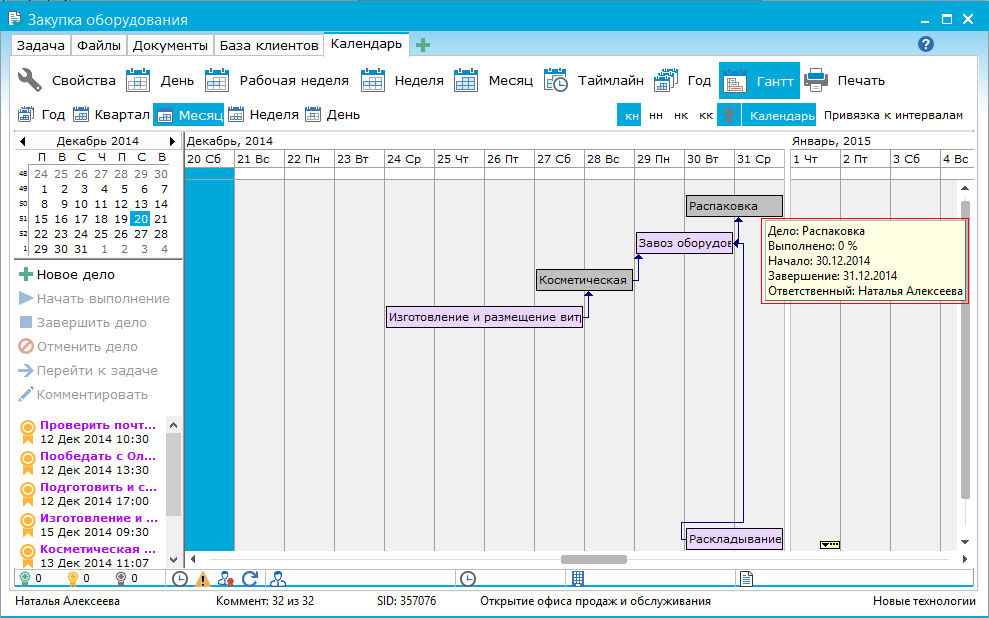 The user can easily monitor the progress of the project and the violation of deadlines. Overdue cases are listed in the left panel. In the calendar, overdue cases are marked in purple. The executed business is marked in green. In gray, canceled user files are marked.