Interface of the Main Window
After you start the program, the Main Window (presented at the figure below) appears.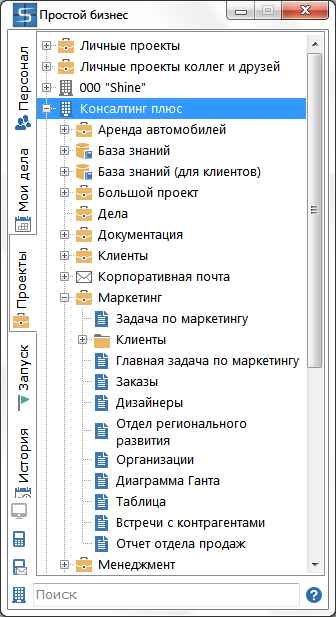 Pop-up menu (всплывающее меню вкладки)
Main menu (главное меню)
Active server
Call center
Tabs search
Main Menu, Menu located under the butterfly pic., Menu icon in the system compartment.
"Profile" - runs the window with user's personal information
"New" - allows you to create a new project, task, contact, corporate contact, contact of the group, and add group, organization, quick start option
Search" - advanced search option allows to find comments, tasks, contacts, organizations, and another information
"Calls" - the history of the calls of the user;
"Calendar" - opens the calendar with tasks and projects of the user;
"Go" - opens a window to that allows quick access to the tasks, files, comments, and accounts;
"Categories" - opens a window with the general categories;
"Invite" - opens a window where you can create invitation for users (as private person or organization).
"Prostoy.Ru" - starts the browser and loads the home page of www.prostoy.ru.
"Data exchange" - opens the window of the data exchange with the server
"Offline mode" - allows to work offline without communication with the server
"Check for updates" - searches for available updates of the program on the server. If the update is found, program offers to install it.
"Help" - contains detailed information how to use the program;
"Hide/Open" - minimizes/restores the main window;
"Exit" - shuts down the program;
Options of the Main Menu that are not displayed on the top of the windows are hidden under the - > button

.
To get access to the Main menu Option you need to left click on the icon of clover in the upper left corner of the screen. Dropdown menu will appear.
Tabs:
"Contacts" - a list of the user's contacts, including organizations, users, and contacts;
"My tasks" - list of tasks of the user and all tasks in which he is chosen as executor;
"Projects" - displays a tree of projects that includes personal projects and tasks of the user, as well as projects and tasks of the organizations;
"Run" - quick launch of favorite programs, web resources, documents;
"History" - the history of recent changes of the objects that are available for the concrete user. Objects are grouped by categories: "Tasks", "Comments", "Notifications", and "Files";
"Technical Support" - opens a window "Prostoy.Ru technical support" where user can ask for the support in a case of inappropriate work of the program or difficulties.