User Information
The user is able to view information about other users inside Prostoy.Ru system. To get information doubleclick on user's name (or press Enter) in tab "Contacts". The new window with information will appear. Window contains several tabs.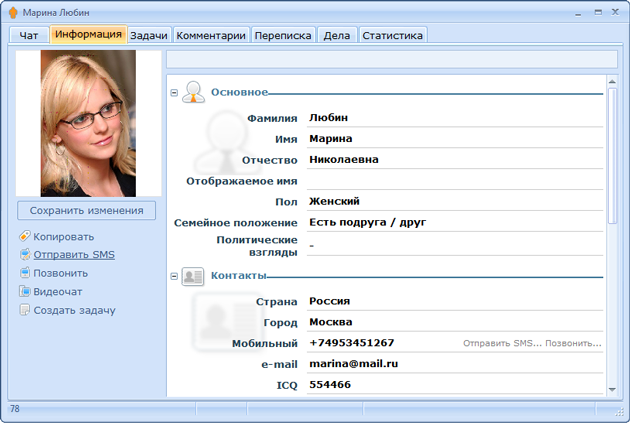 In the left part of the window you can see profile picture of the user and various communication options. Among them:
"Copy" - allows to copy contact information to the clipboard
"Send SMS" - allows to send text message to the user
"Call" - allows internal call
"Video Chat" - opens videoconferencing
"New Task" - allows to assign new task to the user
On the right panel of the window you can see the next options:
'Chat' tab - allows you to communicate with the user via an internal IM and ICQ
"Information" tab - allows to view profile of the user. Profile is divided into few categories: General, Contacts, Addresses, Notes
"Comments" - shows the last comments to the tasks added by users
"Correspondence" - shows the messages sent/received by email
"Tasks" - shows the list of tasks of the user. You should have access to the task in order to see it.
"Statistics" - shows the statistics of user's activity (comments to the tasks to which viewer has access)
The owner and administrators of organizations are able to fill additional properties of each user within the organization. To save changes press "Save changes" button.