Creation of the affair
User is able to create an affair inside the task (for himself or entrust it to another user).
It is possible to create affair in several ways:
You can convert existing comment to the task to affair. For this select "Convert to affair" option in the context menu of the comment feed.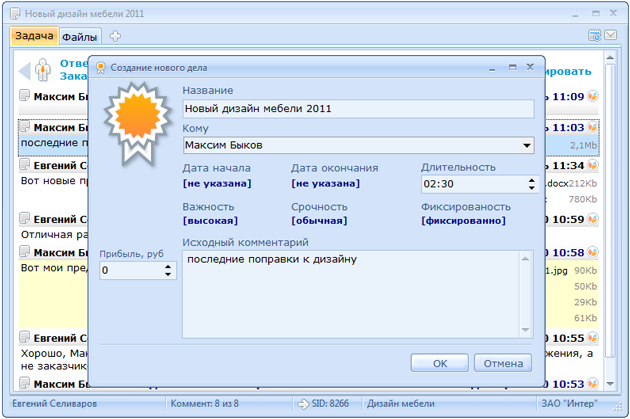 The new window will appear. In this window you should specify the name of the affair and person responsible for its completion.
It is also possible to define other properties if needed. You can also create an affair instead of comment. For that open "Affair" tab inside the comment window and specify its parameters.

You can also create new affair inside the quick comment box. Tick "Affair" check-box and additional options will appear on the left panel.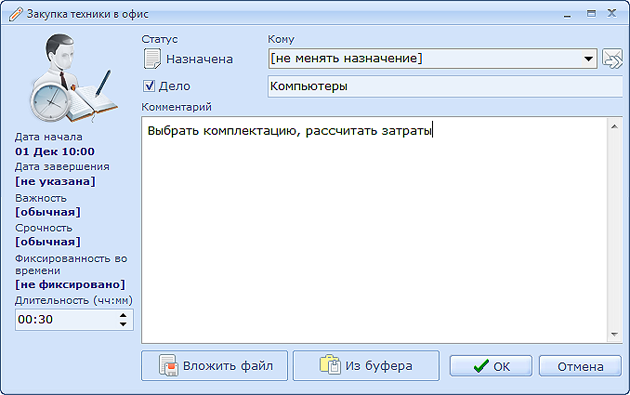 Another option - is to create an affair under "My tasks" tab. For this select "New" option in the context menu of the tab (or press Ins key).
When you create an affair you should specify its name (by default it is the name of the parent task) and select user responsible for the execution of the affair (by default it is assigned to current user). It is possible to reassign affairs.
You can define importance of each affair (low, normal, high) and its urgency (not urgent, normal, urgent) as well as start date, deadline and the estimated duration of execution. Affair can be fixed (linked to a specific date and time), and current. "Current" means that affair does not have specific time limitations.
For current affairs you can change the order of their execution. For that you should pull affair to the appropriate location (above or under another affairs) under the tab "My affairs" in the main window or use hotkeys (Ctrl + Up and Ctrl + Down).
To change properties of an affair, open its window in "My affairs" tab (doubleclick or press Enter). Or you can open it in comment feed where this affair is located (click "Properties" in the context menu of the affair).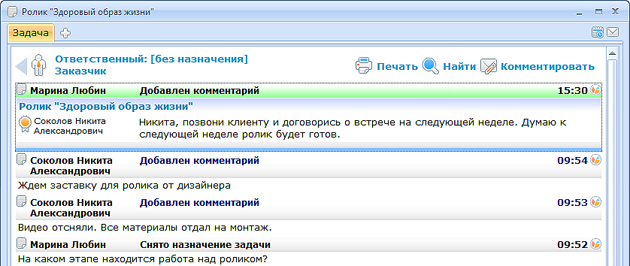 In the comment feed inside the affair (at left) the following parameters are displayed: responsible person, start date (if defined) and status of the affair (as an icon).
It is possible to leave comments to the affair. For that you should select "Add Note" (or press Shift + Space) in the context menu of the affair (in comment feed). All comments to the affair will be displayed in the task