History
User is able to see tasks, projects, files (he worked with) and comments (left by him and by other users) in chronological order.
In order to see the history of the recent changes, user has to press "History" tab in the main window (Win + A)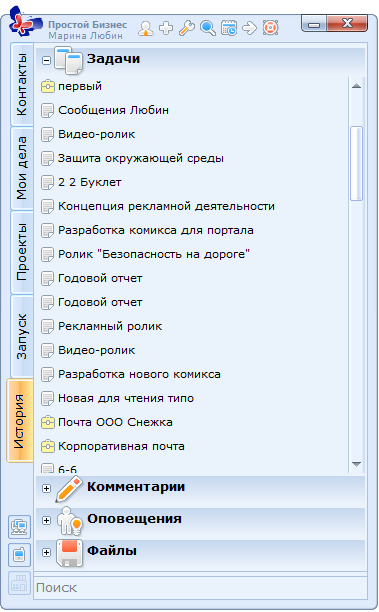 "History" tab contains several sections.
Tasks
This section displays last opened tasks, projects, users and contacts.Double click on the selected element (Enter) allows to open an appropriate window with properties.
Comments
This section displays last 100 comments posted by user or by other users (in the tasks that are visible for this concrete user). Double click on the comment (Enter) opens window with task, in which comment is contained. This comment displays as underlined one.
Notifications
This tab displays last notifications sent to the user. Double click (Enter) on the notification opens the window with the more detailed information about the notification.
Files
This section shows last 100 files in chronological order, including files attached to the comments, files downloaded from the server and recently opened files.
The context menu of this tab allows to perform different actions with it (read more...)